WE HAVE OVER 1900 PRODUCTS ON OUR SITE! SEARCH FOR YOUR PRODUCT HERE:
Hydrometers and Test Jars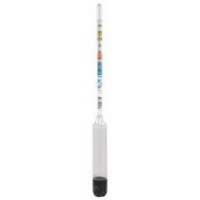 The hydrometer is a simple device that is floated in the wine, beer, cider or liqueur.
The level at which the hydrometer floats gives a measure of the sugar level in the liquid.
Very useful in accurately facilitating the calculation of the abv% of your beverages.