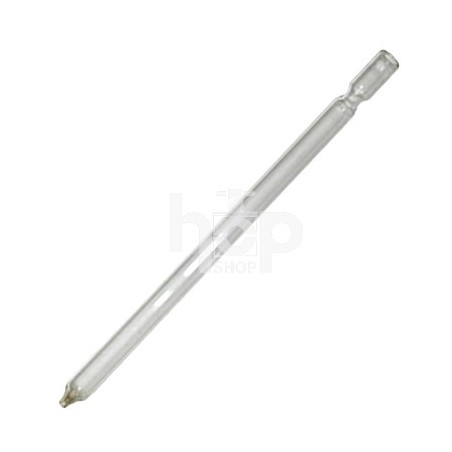  
Glass Wine Thief Pipette - 40ml (ALLA)
Alla Glass Wine Thief Pipette: The Essential Tool for Wine Making
A wine thief is a crucial piece of kit for any aspiring or experienced winemaker.
This glass wine thief allows you to accurately sample wine, cider, or beer during the fermentation process without disturbing the remaining liquid.
---
Design and Features
The Alla Glass Wine Thief Pipette is a beautifully crafted glass pipette featuring an elongated, narrow tube with a sealed bottom and an open top.
Its design ensures you can dip it into your fermenter, cover the top to create a vacuum, and effortlessly draw up a sample into the pipette.
Simple and elegant, this wine thief pipette provides a seamless solution for taking accurate samples.
Constructed from sturdy glass, the Alla Glass Wine Thief Pipette offers both durability and sophistication.
Easy to clean and reusable, it is a reliable tool for all your winemaking cycles.
---
Functionality
The Alla Glass Wine Thief Pipette is an ideal partner to a trial jar, enabling you to accurately check the gravity of your brew - a key step in winemaking.
This information allows you to monitor the sugar concentration in your wine, an essential factor in tracking the fermentation process.
Compact yet proficient, the Alla Glass Wine Thief Pipette has a capacity of 40ml, a diameter of approximately 22mm, and an overall length of approximately 290mm.
Its dimensions make it suitable for use with both large fermenters and smaller demijohns.
---
The French Connection
As a traditional French glass pipette, the Alla Glass Wine Thief combines timeless elegance with practicality.
It's an essential asset in your winemaking toolkit, regardless of your level of experience.
Whether you're a seasoned winemaker or a homebrew hobbyist, a wine thief pipette should be a key component of your winemaking process.
Only users who already bought the product can add review.