WE HAVE OVER 1900 PRODUCTS ON OUR SITE! SEARCH FOR YOUR PRODUCT HERE:
VineCo Original Series Wine Kits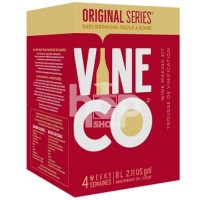 VineCo Original Series range is approachable and delicious, producing quality wine at an affordable price.
Produced by VineCo, a leading winemaking kit manufacturer based in the Niagara region of Canada.
Each wine kit contains 8 litres of varietal grape juice concentrate, yeast, stabilizers, clarifying agents, and detailed instructions.
Simple to make, without the need to add sugar, these kits make up to 30 bottles of outstanding quality wine with distinctive flavours & bouquets.
This range is on par with Winexpert Classic, two of the best 30 bottle wine kits available on the market.