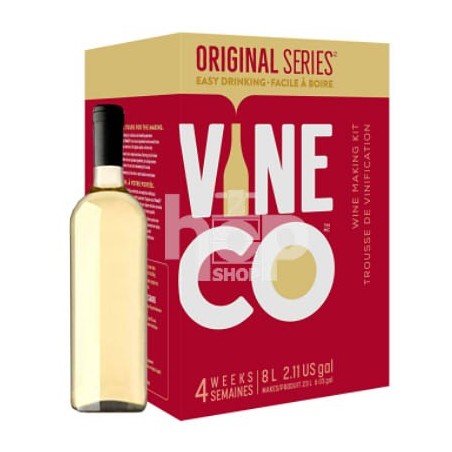  
VineCo Original Series - Sauvignon Blanc, Chile
VineCo Original Series Sauvignon Blanc Wine Kit
VineCo Original Series Sauvignon Blanc is a homemade wine kit that produces up to 30 bottles of highly drinkable wine in just a few weeks.
VineCo Original Series are approachable and delicious wines to have on hand for all of life's special (and not so special) events.
No added sugar is needed for this wine kit, as all the sugar content is contained within the 8 litres of grape concentrate.
---
This Sauvignon Blanc has no benefits to ageing and one of the few wines which are advised to be consumed early.
A dry Sauvignon Blanc with a light-medium body, exhibiting wonderfully herbaceous with overtones of stone fruit and tropical fruit.
Dry | Unoaked | Light-Medium Body | 12.5%
---
Range Information
Produced by VineCo, a leading winemaking kit manufacturer based in the Niagara region of Canada. 
VineCo wine kits are some of the very best winemaking kits on the market.
Each of these kits contains 8 Litres of the highest quality varietal grape juice & concentrates for a fuller bodied.
Simple to make, these kits make 28-30 bottles of outstanding quality wine with distinctive flavours & bouquet.
Ready in 4 weeks, this kit includes the Juice Concentrate, Yeast, Stabilizers, Clarifying Agents and a Full set of instructions.
Please note this is just an ingredients box, and you will need wine making equipment.
Only users who already bought the product can add review.