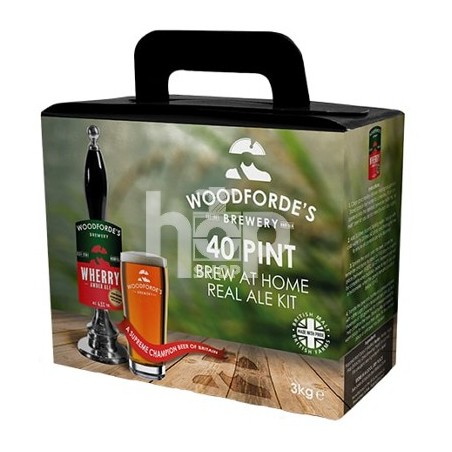  
Woodfordes Wherry - 40 Pint Beer Kit
Woodfordes Wherry Kit - Craft Your Own Classic Real Ale
Craft a delightful classic amber ale in the comfort of your home with the Woodfordes Wherry Beer Kit, perfect for aficionados of English-style ales.
This home brew kit provides everything needed to craft up to 40 pints of exquisite Woodfordes Wherry, a cherished favourite among home brewers.
---
Beer Characteristics
Woodfordes Wherry boasts a harmoniously balanced bitterness and a refreshing, crisp, dry finish, all wrapped in a light-bodied amber hue.
Its captivating aroma combines malt and citrus notes, making it an ideal companion for a tranquil evening at home.
---
Small Batch Brewing
This beer brewing kit includes two tins of top-quality malt extract and two packets of premium yeast, offering flexibility to craft 20 pints at a time using a single tin and yeast packet.
---
The Legacy of Woodfordes Brewery
Rooted in the esteemed Woodforde's Brewery recipe, the Wherry beer kit brings their renowned craftsmanship to your home brewing experience.
Woodforde's Brewery, a Norfolk-based establishment known for excellence, has partnered with Muntons to offer their exceptional beers at a fraction of commercial costs.
For those who enjoy hoppy, bitter notes, consider the Woodfordes Admiral Beer Kit, or explore the deeper, robust flavor profile of the Nelson's Revenge Beer Kit.
---
Your Path to Craft Beer
Each Woodfordes beer kit equips you with all necessary ingredients for top-tier beer crafting, including hopped malt extract, yeast, and comprehensive instructions.
With basic home brewing equipment, bottles, or a keg, you're ready to embark on a journey into the realm of craft beer.
To elevate your beer to commercial-grade excellence, consider the addition of Pure Brew, a professional yeast nutrient and water treatment.
Only users who already bought the product can add review.