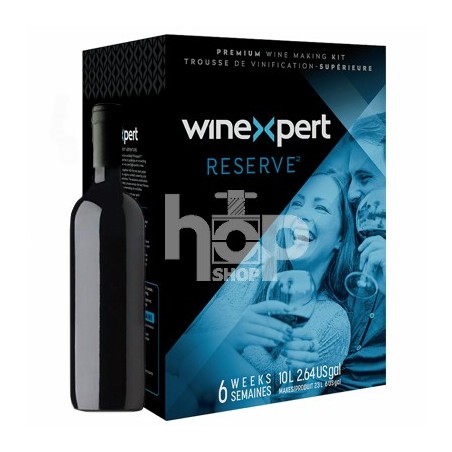  
Winexpert Reserve - Cabernet Shiraz, Australia
Winexpert Reserve Cabernet Shiraz Wine Kit - Craft Your Own Bold Australian Red Blend
Create up to 30 bottles of this remarkable blend with the Winexpert Reserve Cabernet Shiraz Wine Kit.
This kit combines the best of two worlds, bringing together the structural intensity of Cabernet Sauvignon and the ripe fruit and chocolate notes of Shiraz.
With each sip, you'll experience the luxurious treat of a rich, complex, and hearty red wine with unmatched character.
Expect a harmonious blend of flavours including blackberry, dark chocolate, liquorice, and subtle hints of smoke with the Winexpert Reserve Cabernet Shiraz.
---
Product Specifications
Sweetness: Dry
Oak: Heavy
Body: Full
ABV: 13% Approx.
Yield: 23L (30 Bottles)
Region: Australia
Ready: 4 - 6 weeks
---
What's Included in the Kit?
Dedicated Yeast
10L of Grape Juice Concentrate
Heavy Oak Chips
Clarifiers and Stabilizers
Step-by-step Instructions
No additional sugar is required for this kit, but you will need fermentation equipment, corks, and bottles.
---
Winexpert Reserve Wine Kits - Elevate Your Winemaking
As part of Winexpert's Reserve range, this kit includes 10 litres of the finest varietal juices sourced from the world's most sought-after grape-growing regions.
Winexpert Reserve wine kits enable you to craft exceptional wines with remarkable body, flavour, and aroma in just 6 weeks.
Like all wine making kits, with time to mature, you will experience an increase in quality, improving with age up to 12 months.
Elevate your wine collection with the Winexpert Reserve Cabernet Shiraz Wine Kit, and savour the excellence of homemade premium wine.
Only users who already bought the product can add review.