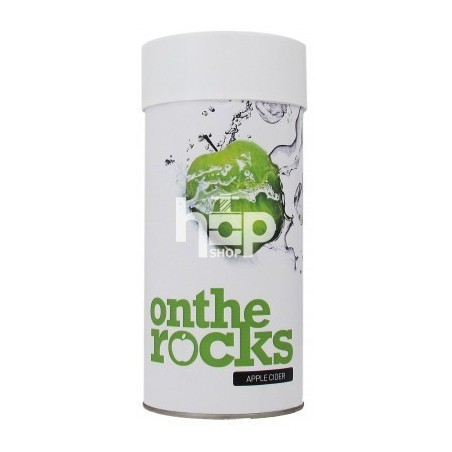  
On The Rocks - Apple Cider Kit
On The Rocks Cider Kit - Apple
Craft delicious cider from your kitchen with the On The Rocks Apple Cider Kit.
Experience the delight of a crisp, refreshing brew that offers a harmonious blend of tart and sweet flavours characteristic of ripe apples.
This home brew cider kit allows you to produce up to 40 pints of invigorating homemade cider, achieving an ABV of 5.9% approx.
The resulting cider offers a pleasant balance, with a clean apple finish that is sure to invigorate the senses.
---
Quality Ingredients for a Refreshing Brew
Each On The Rocks Cider Kit includes detailed instructions, 1.7kg of high-quality apple concentrate and a unique fruit add-back pack.
This flavoured pack infuses your brew with real fruit juice, enhancing the natural, refreshing apple flavour.
---
Easy Brewing Process
Just mix the concentrate with the 1.3kg of brewing sugar and water, and sprinkle on the yeast, letting the fermentation process work its magic.
For those seeking an even crisper and richer flavour, consider replacing the sugar with a cider enhancer, equivalent to 1kg of sugar.
If you prefer a slightly milder brew, use only 1 kg of brewing sugar for a lower ABV.
---
Start Brewing with On The Rocks Today
On The Rocks Cider Kits are your ticket to creating cider that resonates with your unique taste preferences.
With this cider making kit, you'll be able to create a delightful, high-quality apple cider right in the comfort of your own home.
Start brewing with On The Rocks today, and savour the satisfaction of a well-crafted homemade cider.
Only users who already bought the product can add review.