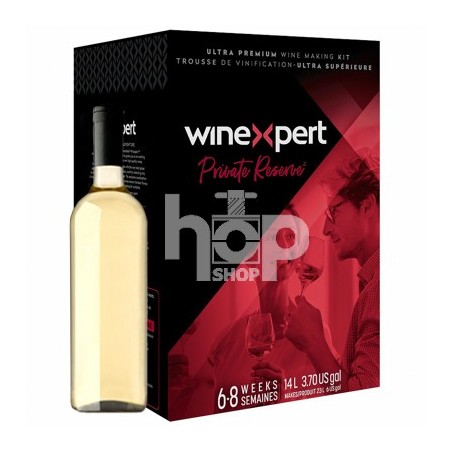  
Winexpert Private Reserve - Sauvignon Blanc (Adelaide Hills, AU)
Winexpert Private Reserve wine kits are outstanding winemaking kits which feature the finest varietal juices from around the world.
No added sugar is needed for this winemaking kit, as all the sugar content is contained within the 14 litres of grape concentrate.
Like all wine kits, with time to mature, you will experience an increase in quality, improving with age up to and beyond 12 months.
---
Winexpert Private Reserve Sauvignon Blanc is intensely aromatic and fragrant with inviting passion fruit, cut grass and grapefruit aromas.
With juicy fruit intensity and bright acidity, this fruit-forward wine casts long, robust flavours of zesty fruit with a crisp dry finish.
Dry | Medium Body | No Oak | No Grape Skins | 13% Approx. | Labels: Yes
---
Range Information
Winexpert Private Reserve Wine Kits have the highest single-strength juice and varietal content available.
The majority of the red wines from this range include grape skins, which again add greater depth to the wine.
Delicious wine is yours for the making, no additional sugar is needed, with unmatched quality you couldn't buy from the store.
Each of these kits contains 14 Litres of varietal grape juice & concentrates and makes 23 Litres (28-30 bottles) of calibre wine.
Ready in 6-8 weeks, this kit includes the Juice Concentrate, Yeast, Stabilizers, Clarifying Agents and a Full set of instructions.
Please note this is just an ingredients box, and you will need wine-making equipment.
Only users who already bought the product can add review.