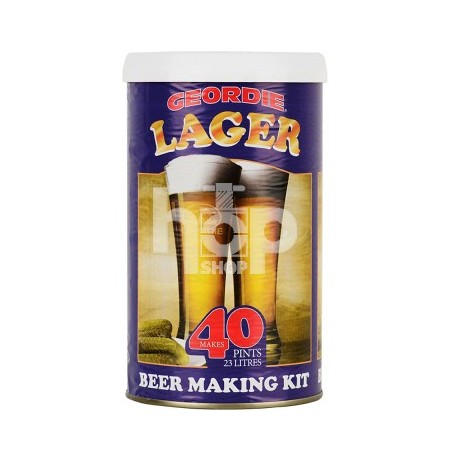  
Geordie - Lager - Beer Kit
Geordie Home Brew - Lager
Geordie Lager is a home brew kit that produces up to 40 pints of beer with an approximate 3.8% ABV.
Craft a refreshing, light gold lager that carries the distinctive tang of the continent's finest brews.
This home brew lager brew kit includes yeast and 1.5kg of malt extract, requiring an additional 1kg of brewing sugar.
For those seeking to enhance their homebrew, consider substituting the brewing sugar with a beer enhancer.
It adds depth and complexity to your brew, resulting in a rich and delicious beer.
---
The Geordie Brewing Legacy
Geordie beer kits are a popular choice among homebrewers due to their consistency, value, and authenticity.
With decades of experience, Geordie has become a trusted name in the homebrewing community.
These kits are easy to use, budget-friendly, and produce highly drinkable session beer for less than 30p per pint.
The Geordie Lager Beer Kit is just one example of Geordie's offerings, empowering you to craft a unique and delightful beer with minimal effort.
Only users who already bought the product can add review.