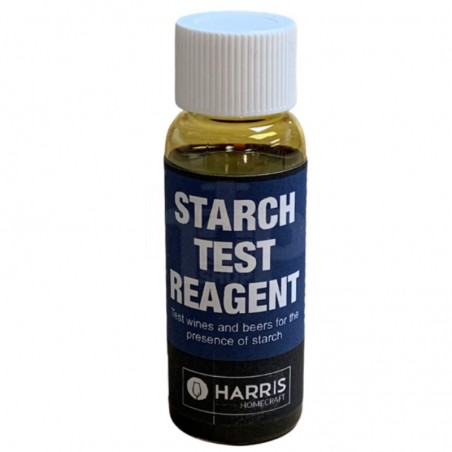  
Starch Test 30ml - Iodine
This is an aid to enhance the clarity of your beverages.
To check that starch conversion is complete, remove a few grains from the mash, place them on a white surface and add 2-3 drops of the iodine.
For fruit ripeness check, cut it in half, and apply to check.
If the iodine turns a dark blue to black in colour this shows that conversion is incomplete.
---
Instructions
Add 2 ml of Starch Test Reagent to a test tube, using a pipette.
Then add 6ml of wort or wine.
Secure the test tube cap and shake for a few seconds.
If the solution remains an amber or brown colour then starch is not present.
If the colour changes to a deep red or blue/black then starch is present and the resulting drink may not be clear.
Only users who already bought the product can add review.