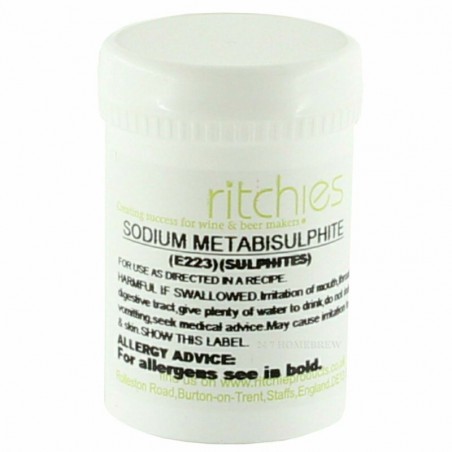  
Sodium Metabisulphite - 100g
Sodium Metabisulfite
Also known as campden powder is a long-established multipurpose homebrewing ingredient.
Sodium metabisulphite can be used in several ways, the first being used for sterilising equipment. (not a cleaner)
The second use is for purifying/suppressing unwanted bacteria and 'wild' yeasts before a fermentation.
Lastly, it can be used as an antioxidant to stabilise and preserve your homebrew beer, cider or wine.
---
Instructions
To purify juice add 0.5g (approx 1/12tsp) per 4.5 litres, mix well and stand in an open container for 24-48 hours before pitching yeast.
For preserving wine it is recommended to use it in conjunction with potassium sorbate.
To create a sterilising solution add 12.5g (approx 2tsp) per 1 litre of cold water.
---
Store in a cool, dry place away from direct sunlight.
Suppliers may vary subject to stock levels.
Only users who already bought the product can add review.