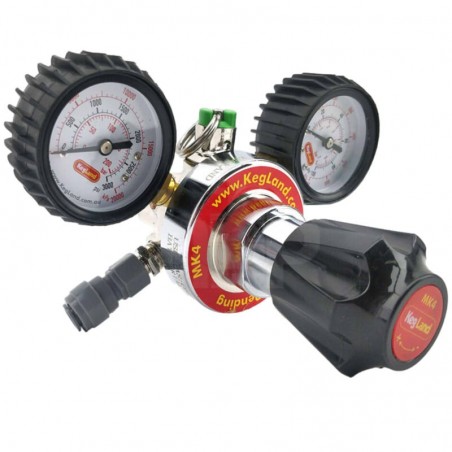  
Kegland - MK4 CO2 Regulator (Type 30)
Dual Gauge Gas Regulator
One of the better regulators on the market conforming to credible standard materials & finish!
Out of the box, it includes a Duotight 8mm fitting and Type 30 Nut, suitable for Carbon Dioxide and CO2 + Nitrogen mixed gasses.
With a large body and precision diaphragm, this regulator provides high flow rates and very accurate adjustments in both PSI and kPa.
---
New and Improved Features
Stronger Steel Gauges made from thicker steel
Triple-scale gauges in kPa, Bar and PSI
Option for interchangeable colour-coded PRV valves - includes Green one only (65 PSI, 4.5Bar)
Since there is a large range of pressure fermenters such as Fermenter King and Fermzilla/Fermentasaurus units this is an important safety feature to make sure lower pressure relief valves are used for some applications.
Also being colour coded it's easy to identify which PRV is fitted.

M6 Mounting Holes

 for Easy Mounting
---
Important
This regulator can be used for a wider range of gasses but for other gas types you will need a different Nut and Stem.
Type 10 Nut & Stem: Helium, Argon, Oxygen
Type 50 Nut & Stem: Nitrogen
Only users who already bought the product can add review.