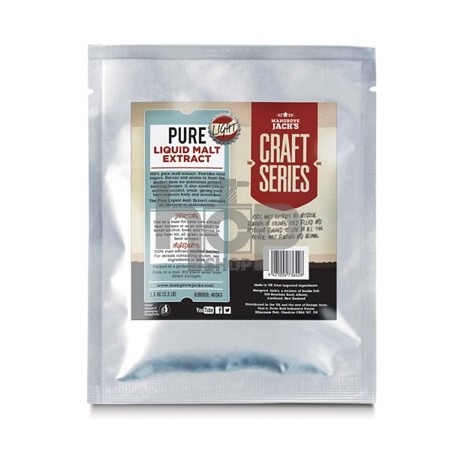  
Mangrove Jack's - Light Liquid Malt Extract 1.5kg
Mangrove Jacks Liquid Malt Extract - Light 1.5kg
This pure liquid malt extract contains no dextrose or maltodextrin, just 100% malted barley extract.
Can be used as a base for your own malt extract beer recipe, providing you with vital sugars, flavours and aroma.
Alternatively, you can use it as an enhancer to boost alcohol, body and flavour to any homebrew kit or all-grain recipe.
This is cold-filled into a pouch, instead of a can, to retain all the delicate flavours and aromas which are lost using the traditional canning process.
Click here for a useful background on malt extract brewing.
Dry matter (% solids): 79-83% by weight
Colour (10% w/v sol.): 5 – 8 EBC
pH (10% w/v sol.): 5.0 – 6.0
Only users who already bought the product can add review.