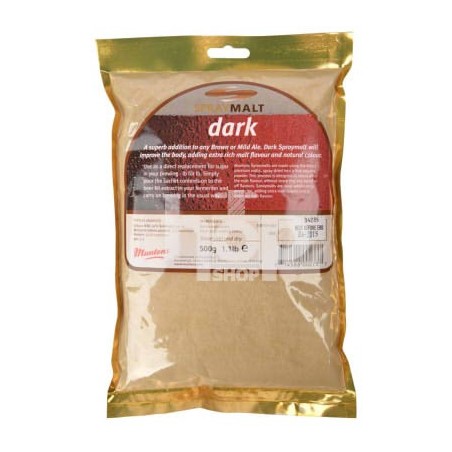  
Dried Spraymalt Extract - Dark 1kg
Dark Malt Extract
This malt extract is made from barley malt, a superb addition to any Stout, Porter or Brown Ale.
Dark Spraymalt will improve the body, adding extra rich malt flavour and natural colour.
Colour (EBC 10% Solution) 44-70
Protein: 8% max
pH: 5.6
Click here for a useful background on malt extract brewing.
This pack of Dark Dried Malt Extract produced by the largest manufacturer of Dried Malt Extract in the UK.
This product is also available in 25kg bulk, please contact us directly if you are interested.
Only users who already bought the product can add review.