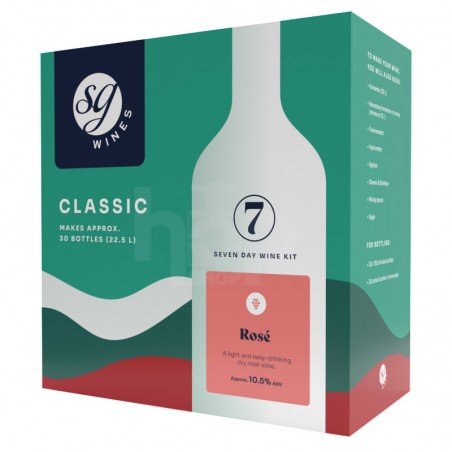  
SG Wines - Classic - Rosé - 30 Bottle Wine Kit
SG Wines - Rosé
 

White Wine Kit 30 Bottle (formerly Solomon Grundy)

Dive into winemaking with the SG Wines Classic 30 Bottle Dry Rose Wine Making Kit, perfect for crafting a light and easy-drinking rosé wine.

This wine kit produces up to 30 bottles of a delightful, sweet to medium wine as quickly as 7 - 10 days.

Formerly known as Solomon Grundy, the rebranded SG Wines continues its tradition of providing top-tier homemade wine kits.

The SG Classic Dry White Wine Kit requires the requires the addition of 3 kg of granulated sugar (sucrose) or 3.3 kg of brewing sugar (dextrose) for fermentation.
---
Specifications
ABV: 10.5% Approx.
Makes: 30 Bottles (22.5 L)
Sugar Required: 3 - 3.3 kg (sucrose or dextrose)
---
Inside the Box
1.5 litres of a Grape Juice Concentrate Blend Pouch
Acid Regulator for balance
A Stabilizer sachet to protect the quality of your wine
A specialized sachet of wine yeast and nutrients for effective fermentation
Wine Finings A & B to clarify your wine
Flavouring Add-Back for taste enhancement
Step-by-step instructions for a smooth winemaking journey
Please note that you'll need basic brewing equipment, along with bottles and corks, akin to the previous Solomon Grundy Classic range.
---
About SG Wines Classic Range
SG Wines transforms winemaking into an accessible, enjoyable, and engaging hobby for budding winemakers.
Each kit now includes grape juice secured in nitrogen-flushed pouches, preserving optimal freshness and flavour by blocking oxidation.
The SG Classic range produces quality wines with delicate flavours and body, available in both 6 and 30 bottle versions.
Moreover, this range is designed to emulate a 'Style' wine, leveraging flavour add-backs to enhance the overall taste profile.
Similar to all wines, exhibiting patience by storing your wine in a cool, dark place for a few weeks truly pays off.
Your patience is rewarded with an enhanced, rich flavour depth, improving the tasting experience significantly.
Only users who already bought the product can add review.