WE HAVE OVER 1900 PRODUCTS ON OUR SITE! SEARCH FOR YOUR PRODUCT HERE:
Magnum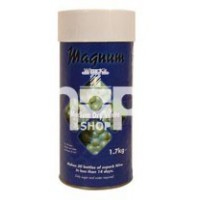 Each kit makes 30 bottles, needs the addition of 3.5kg of sugar, and comes complete with a set of sachets containing the yeast, yeast nutrient, stabiliser and finings.
These kits are keenly priced and represent good value.