WE HAVE OVER 1900 PRODUCTS ON OUR SITE! SEARCH FOR YOUR PRODUCT HERE:
American Craft Ales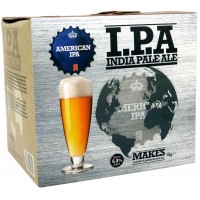 Ever thought about trying to make something in the style of Sierra Nevada Pale or Goose Island IPA, or even a hoppier version of Doombar? Then consider this range.
These have been developed to bring the best of American craft philosophy to the UK.
The approach is simple, based on the same philosophy as the American craft brewing industry where only the best and freshest ingredients are used, never sacrificing quality over cost.
Generous malt/sugar levels requiring no additional sugars combine with hop pellets & dedicated yeast to provide refreshing beverages that many other beers struggle to match.