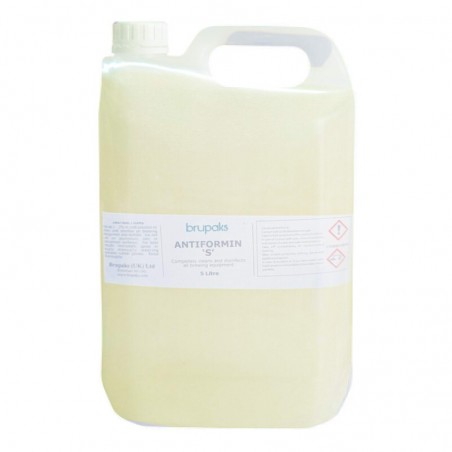  
Antiformin 'S'
Cleaner & Steriliser
Antiformin S is a food-safe concentrated liquid detergent/disinfectant solution.
Probably the most universally used and effective branded product of its type in the brewing industry.
This specially formulated concentrate is for cleaning and sterilising stainless steel, copper and plastic installations within the brewery.
It is equally suited to spray cleaning, re-circulation or manual application, please see Technical Data Sheet.
---
Guidelines for use
Check that the product is within its shelf life before use
Contact time is 15-20 minutes
Do not mix with acids
Do not use on aluminium, zinc, brass or galvanised surface
Do not use a concentration >2.5% on stainless steel surfaces
Do not exceed temperatures of 50°C as the rate of chlorine loss will accelerate markedly.
Read the Safety Data Sheet prior to use.
Only users who already bought the product can add review.