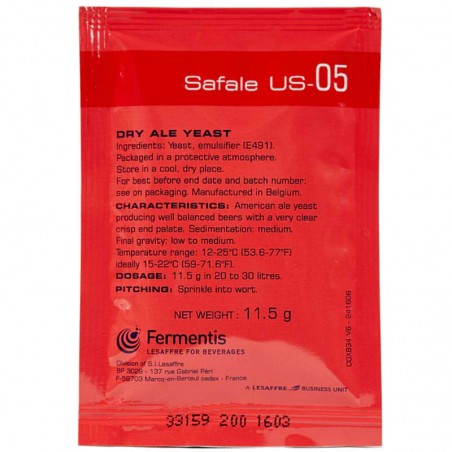  
SafAle US-05 American Ale Dry Yeast 11.5g
The Most Neutral Fermentis Brewer's Ale Yeast
The quintessential dry American Ale strain produces well-balanced beers with low diacetyl and a very clean, crisp palate.
US-05 forms a firm foam head and presents a very good ability to stay in suspension during fermentation.
A popular homebrewers choice for producing American Style beers or highly hopped beers.
---
Attenuation: 78–82%
Sedimentation: Medium
Flocculation: Medium
Alcohol Tolerance approx.: 9-11%
Recommended Fermentation Temperature: 18-28°C
---
Suitable for American Style beers, Blonde Ales, Imperial Stouts , Cream Ales, Porters & Pre Prohibition.
Only users who already bought the product can add review.