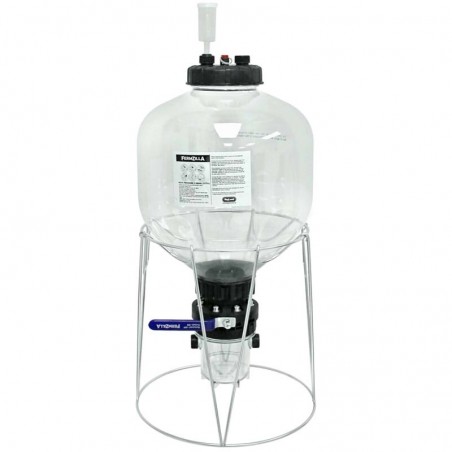  
Fermzilla 27L with Pressure Kit & Spunding Valve
Fermzilla 27L Gen 2 Conical Fermenter
Fermzilla allows you to use the vessel as a standard fermenter with an airlock or as a pressurised fermenter.
The Ultimate Fermzilla Starter Kit, this bundle includes EVERYTHING you will need to start pressure fermenting.
The Fermzilla conical fermenter minimizes oxidization by not needing to transfer the beverage.
---
What are the benefits of fermenting under pressure?
Overall reduction in yeast ester and fusel production.
Ferment at higher temperatures without producing off-flavours.
Naturally carbonated beer from CO2 generated during fermentation (Rather than waiting over another week for carbonation)
Due to the closed fermentation, aroma compounds remain in the beer and aren't blown off.
You can serve beer directly from Uni tanks, counter pressure fill bottles or quickly transfer the beer into kegs using pressure.
Fantastic for fermenting lagers with the lower ester production and the ability to brew at 21 °C to obtain a traditional lager flavour.
---
What's Included
Fermzilla 27L Gen 2 Tank with Butterfly Dump Valve Parts
Reinforced Stainless Steel Stand with Handles
Stainless Steel handles for Fermzilla x 2
Top Lid Threaded Cap with O-Ring
Top Lid fitted with a Pressure Relief Valve (35psi) and 2 x Male Cap Threads
Plastic Carbonation Pressure Caps (Fits onto Male Cap Threads) x 2
Premium 3 Piece Airlock & Grommet Cap (Fits onto Male Cap Thread)
1000mL Collection Container with Lid* and [2 x Male Cap Threads]
Black Cap (Fits onto Male Cap Thread)
Adjustable Easy Opening Tool
Approximate Graduations Sticker & Stick On Thermometer strip
Set of Spare Seals
80 cm Silicone Dip Tube fitted with Floating Dip Tube Filter & Stainless Steel Float
BlowTie Spunding Valve with Integrated Gauge (0-15PSI)
*Collection container lid is not pressure rated*
---
Click here for a video.
Click here for instructions.
The only additional purchase you may need is a tap to draw off your beer!
Only users who already bought the product can add review.