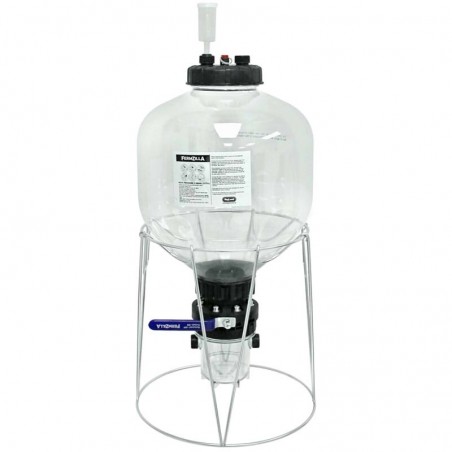  
Fermzilla 27L with Pressure Kit & Spunding Valve
The Ultimate Fermzilla Starter Kit, this bundle includes EVERYTHING you will need to start pressure fermenting.
The Fermzilla gives you the option to use the vessel as a normal fermenter with an airlock or as a pressurized fermenter.
Minimise oxidisation through pressure fermentation.
What are the benefits of fermenting under pressure?
· Overall reduction in yeast ester and fusel production.
· Ferment at higher temperatures without producing off-flavours.
· Naturally carbonated beer from CO2 generated during fermentation (Rather than waiting over another week for carbonation)
· Due to the closed fermentation, aroma compounds remain in the beer and aren't blown off.
· You can serve beer directly from Uni tanks, counter pressure fill bottles or easily transfer beer into kegs using pressure.
· Fantastic for fermenting lagers with the lower ester production and the ability to brew at 21°C to obtain a traditional lager flavour.
This bundle includes:
1 x Fermzilla 27L Gen 2 Tank with Butterfly Dump Valve Parts
1 x Reinforced Stainless Steel Stand with Handles
2 x Stainless Steel handles for Fermzilla
1 x Top Lid Threaded Cap with O'Ring
1 x Top Lid fitted with a Pressure Relief Valve (35psi) and 2 x Male Cap Threads
2 x Plastic Carbonation Pressure Caps (Fits onto Male Cap Threads)
1 x Premium 3 Piece Airlock & Grommet Cap (Fits onto Male Cap Thread)
1 x 1000mL Collection Container with Lid* and [2 x Male Cap Threads]
1 x Black Cap (Fits onto Male Cap Thread)
1 x Adjustable Easy Opening Tool
1 x Approximate Graduations Sticker & Stick On Thermometer strip
1 x Set of Spare Seals
1 x 80cm Silicone Dip Tube fitted with Floating Dip Tube Filter & Stainless Steel Float
1 x BlowTie Spunding Valve with Integrated Gauge (0-15PSI)
*Collection container lid is not pressure rated*
The only additional purchase you might need is a tap to draw off your beer! - see products below.
Click here for a video.
Click here for instructions.
Only users who already bought the product can add review.