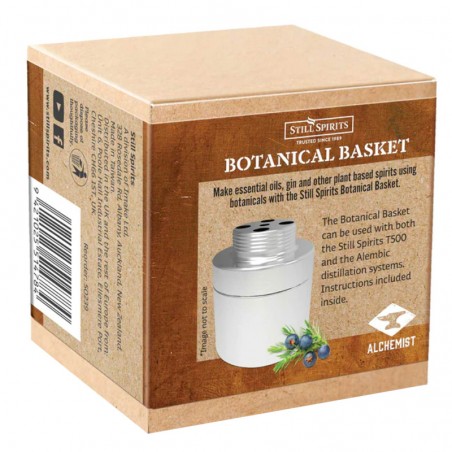  
Still Spirits - T500 - Botanical Basket
T500 Botanical Basket - Craft Distilling Botanicals
Elevate your craft distilling experience with the T500 Botanical Basket from Still Spirits.
This stainless steel basket empowers you to create your own signature Gin or infuse spirits with a unique blend of botanicals.
Designed for compatibility with both the T500 Reflux and Alembic Stills, this versatile accessory is a must-have for any home distiller.
---
Key Features
High-Quality Stainless Steel Construction
Compatible with T500 Reflux and Alembic Stills
---
Specifications
Capacity: 60g of botanicals
---
Usage Instructions:
Prepare and ferment your wash as usual.
Conduct a stripping run to distil your base spirit.
Before your final spirit run with botanicals, remove the nut from your T500 Reflux or Alembic condenser.
Attach the Botanical Basket securely in place of the nut.
---
Note: If you are using the T500 Reflux Condenser, remember to remove any saddles before the spirit run with botanicals.
For comprehensive guidance, consult the enclosed instructions provided with your still system and the Botanical Basket.
Only users who already bought the product can add review.