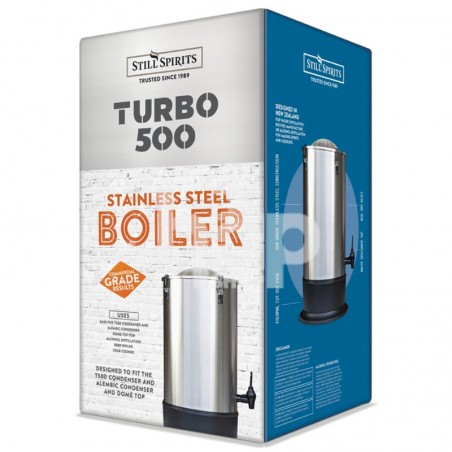  
Turbo T500 Stainless Steel Boiler
T500 Boiler
Ideal for the craft nano-distillery or home use with a licence.
This is a stainless steel electric boiler with a 25L capacity that could also be used as a hot liquor tank for sparging.
The T500 Boiler is the recommended boiler base for use with the T500 Reflux Condenser or Alembic Dome & Condenser.
---
New Element Control
Now includes dual-element control switches to provide more control during distillation.
When both switches are in the ON position, the element will be supplied with the full power of 2200W.
When one switch is in the OFF position, it will only consume 1100W of power.
Adjusting the power can be useful in areas with warmer tap water for cooling and for use with the Alembic Pot Still.
---
Features
304 Grade Stainless steel construction
Dual-element control switches
Stainless Steel Ball Valve Tap
Automatic Reset Switch
---
Simply create your alcoholic wash/base ready for distillation in the T500, a tutorial is available here
Once your wash is created and fermented through you are ready for the next step, see here for a video guide on distillation in the T500.
Also available for use with the T500 or Grainfather system is the Alembic dome setup for those looking to create Gins and Rums.
Click here for a comparison between the column condenser and dome condenser setups. 
For instructions and manuals please check here.
Only users who already bought the product can add review.