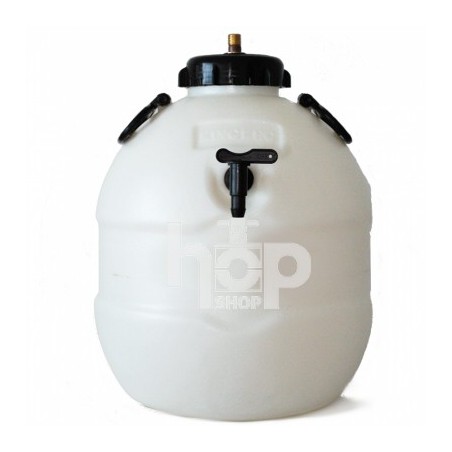  
King Keg Top Tap - Pin Valve - Pressure Barrel
King Keg Top Tap Pressure Barrel
The King Keg Pressure Barrel, tailored to enhance your home brewing processes, comes equipped with a top tap and pin valve cap. Its impressive 25-litre or approximately 5-gallon capacity integrates smoothly into all your home brewing projects.
What makes the King Keg truly stand out is its advanced pressure handling capabilities. This barrel is engineered to manage an optimal CO2 pressure of up to 15 PSI, ensuring your beer is perfectly carbonated every time you pour. The fitted brass pin valve cap, designed for use with 8-gram CO2 gas bulbs, allows you to manage this pressure effectively.
Cleaning and maintaining your King Keg is effortless, thanks to its wider neck design. Built from robust, food-grade plastic, this pressure barrel guarantees durability and a longer lifespan. Plus, with its practical built-in handles, you're ensured easy handling.
So, if you've ever wondered about the ideal pressure to keg your beer or the maximum pressure a King Keg can handle, rest assured that this barrel provides an optimal balance for perfect carbonation and superior taste.
Diameter Approx: 36cm | Height Approx: 48cm
We always recommend testing the barrel with water and Co2 beforehand to ensure there are no leaks. 
You will need a plastic 8-gram bulb holder, to enable you to inject Co2 into your King Keg.
Only users who already bought the product can add review.