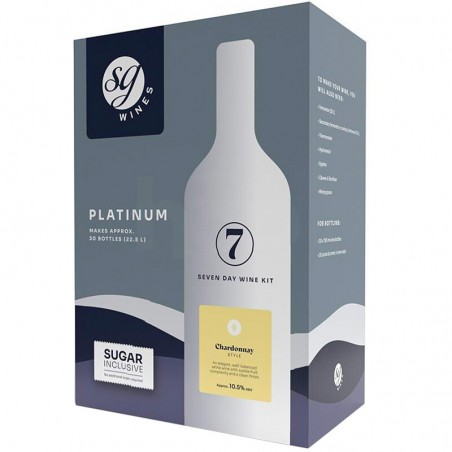  
SG Wines - Platinum - Chardonnay
SG Platinum Wine Kit - Chardonnay (formerly Solomon Grundy)
Discover the pleasure of crafting your own elegant white wine with the SG Platinum Chardonnay Wine Kit.
In merely 7-10 days, this wine making kit enables you to produce up to 30 bottles of premium Chardonnay, without the need for added sugar.
Previously known as Solomon Grundy, SG Wines ushers in a new era while steadfastly maintaining its commitment to delivering top-quality homemade wine kits.
---
Wine Profile
The SG Platinum Chardonnay crafts an elegant and well-balanced white wine.
Its taste profile subtly interweaves fruity complexities with a crisp, clean finish, perfect for those who enjoy a refined white wine experience.
Makes: 30 Bottles/22.5 L
Approx ABV: 10.5%
---
What's in the box?
5 litres of carefully selected grape juice concentrate.
A stabilizer sachet to preserve your wine's quality.
A sachet of wine yeast and nutrients to facilitate fermentation.
Wine finings A & B to assist in clarifying your wine.
Detailed, step-by-step instructions to guide you through the brewing process.
This wine kit requires basic brewing equipment, along with bottles and corks, similar to the previous Solomon Grundy Platinum range.
---
SG Wines Platinum Range
What sets the SG Wines Platinum range apart from other wine kits is the innovative approach to packaging.
The grape juice concentrate is stored in nitrogen-flushed pouches, preventing oxidation and guaranteeing optimal preservation.
This leads to a homemade wine bursting with flavour that you can savour time and again.
For those with patience, storing the wine in a cool, dark place for 3-4 weeks can result in a notable enhancement in the wine's quality.
Only users who already bought the product can add review.