WE HAVE OVER 1900 PRODUCTS ON OUR SITE! SEARCH FOR YOUR PRODUCT HERE:
IPA and Mild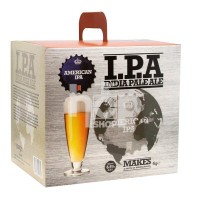 Homebrew Mild and IPA Brewing Kits
Welcome to our IPA and Mild Beer Kits collection, where you'll find everything you need to brew your own flavorful IPAs and mild beers right at home. Whether you're an experienced homebrewer or just starting out, our carefully curated selection of beer kits will help you create delicious brews to satisfy your taste buds.
Brewing IPA and Mild Beers
Most of our IPA and Mild Beer Kits feature a pre-hopped liquid malt extract (LME) as the base, simplifying the brewing process. These kits require the addition of brewing sugar to achieve the desired alcohol content. Alternatively, you can enhance the flavour, body, head retention, and mouthfeel of your brew by using a beer enhancer.
For those seeking convenience, we offer a range of premium beer kits that eliminate the need for additional sugar. These kits often contain extra LME or brewing sugar within the packaging. Some kits even include hop pellets, which are used for dry hopping applications. Dry hopping provides a fresh hop aroma and flavour to your beer and involves adding the hop pellets during the last few days of fermentation.
Explore Our Selection
Our Mild and IPA Beer Kits collection offers a variety of options to suit different preferences and brewing experience levels. From traditional IPAs to hazy IPAs, we have something for every beer enthusiast. Discover the best IPA brewing kits and explore the world of homebrewing with ease.
Featured Kits:
Festival Razorback IPA: Crafted for hop lovers, this kit delivers a bold and aromatic IPA with a perfect balance of bitterness and maltiness.
Muntons Flagship Hazy IPA: Dive into the world of hazy IPAs with this kit, offering a juicy and tropical flavour explosion.
Geordie Mild: Experience the smoothness and subtle complexity of a mild beer with this exceptional kit.
Why Choose Our IPA and Mild Beer Kits?
Quality ingredients: We source the finest malt extracts, hops, and brewing sugars to ensure the highest quality brews.
Beginner-friendly: Our kits are designed to be accessible to all levels of brewers, including detailed instructions for a seamless brewing process.
Variety and options: Explore a wide range of flavours, from classic IPAs to unique hazy IPAs and mild beers.
Exceptional value: Enjoy the satisfaction of brewing your own beer at a fraction of the cost compared to store-bought options.
Start your homebrewing journey with our IPA and Mild Beer Kits collection and experience the joy of creating your own flavorful and refreshing brews.