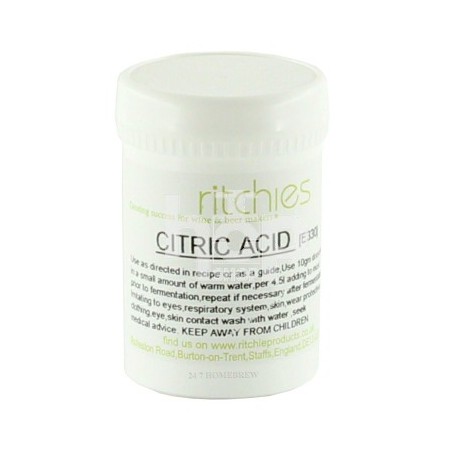  
Citric Acid 50g
Citric Acid Powder in Homebrew and Winemaking
Citric Acid Powder is a key element in winemaking and brewing. It's critical for adjusting acidity and pH, enhancing flavour, promoting stability, and serving as a blending tool. This versatile product is a must for every homebrewer's toolkit.
Harness the Power of Citric Acid Powder in Your Brews
Acidity Adjustment: Citric Acid Powder is the reliable choice for elevating the acidity of wines, especially those with low natural acid content. Ensure optimal balance and brightness in your homebrew wines with this essential ingredient.
pH Regulation: Citric Acid Powder helps finely tune the pH levels of your wine, which influences the overall taste, stability, and microbial activity in your brew. Keep your pH in the optimal range of 3.0 to 3.6 using Citric Acid Powder.
Flavour Enhancement: Add a bright, refreshing, and slightly tart taste to your wines. Citric Acid Powder subtly lifts the flavour profile of your wine without overpowering its natural flavours.
Stability Improvement: Citric Acid Powder acts as a natural preservative and antioxidant, stalling unwanted microorganisms' growth and preventing oxidation. This contributes to the long-term stability and shelf life of your wine.
Blending Tool: Utilize Citric Acid Powder as a blending tool, fine-tuning the acidity and pH of different wine components before blending them together. Take control of the final taste and balance of your wine.
The Versatility of Citric Acid Powder Beyond Brewing
Cleaner: Citric Acid Powder isn't just a brewing essential. It's an effective, food-safe cleaning agent, adept at removing stains, scale, and mineral deposits. Maintain the shine of your stainless steel brewing equipment with a simple Citric Acid Powder solution.
Preservative: In the warmer months, try your hand at making your own elderflower cordials. With Citric Acid Powder as a critical ingredient, your homemade beverages will stay fresh and flavorful.
Only users who already bought the product can add review.