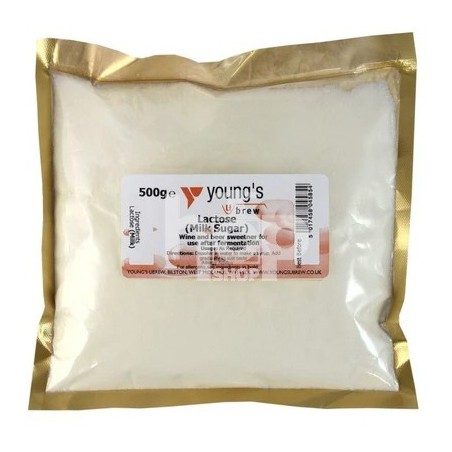  
Lactose (Milk Sugar) - 500g
Brewing with Lactose
Lactose powder is a non-fermentable sugar derived from milk and can be used to sweeten both wine and beer.
Add a small amount at the end of fermentation before bottling when you want to sweeten a dry or bitter wine.
---
Lactose in Beer Making
Brewing with lactose adds a fuller body and a creamy mouthfeel to the end result.
It adds a rounded sweetness that can be used to balance bitterness in some heavily hopped beers.
It is commonly recommended to use lactose at a rate of 5% to 10% of the grain in most recipes.
---
Beer styles that most commonly use lactose
New England IPAs
Imperial Cream Ale
Berliner Weisse
Sour/Gose
Porter
Milk Stout/Sweet stout
---
When to add lactose to home brew beer?
Most brewers agree that the best time to add lactose to a batch is during the boil in the last 15 minutes.
This ensures it's sterilized, doesn't interfere with hop utilization and won't dilute your final product.
Only users who already bought the product can add review.