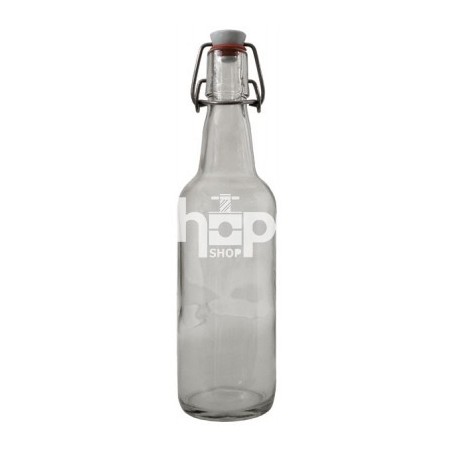  
750ml - Clear Glass Swing Top Bottles - 15 Pack
Grolsch Bottles
The best way to keep your beverages is in the glass.
Priced at a rate equivalent to £2.50 per bottle these sturdy clear glass beer bottles have a capacity of 750ml (metric pint).
As such they embody the very best of bottles.
Robust, easy to seal and reusable, these are suitable for the bottle conditioning of both beers and ciders or country wines.
They will minimise the exposure to oxidisation of your work & facilitate slow maturity under the best conditions.
Both traditional and versatile they are offered in easy-pack cases - thoroughly recommended.
Has the advantage of not requiring a capper or caps.
Do remember never to store any beer in clear bottles in direct sunlight.
The exposure of the iso-alpha-acids in the beer to any ultraviolet radiation leads to the formation of prenyl mercaptan, a "skunky" smelling compound.
Just stash the beer away out of direct sunlight and it will help keep the beer cool as well!
In common with the shipping of all glass products, there is an attendant risk of breakage, which we have minimised but in the event of breakage will refund or credit on provision of proof such as a picture - within the U.K.
For larger quantities please multiply using the options below.
Only users who already bought the product can add review.