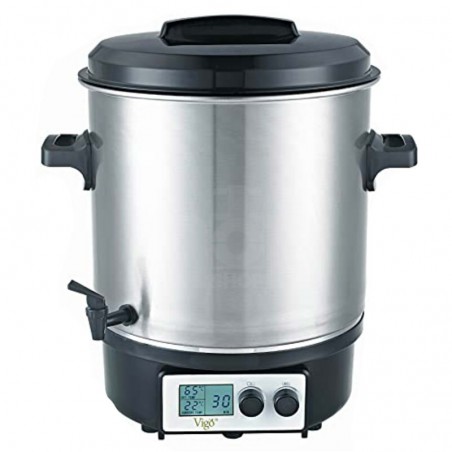  
27L Stainless Steel Pasteuriser with Digital Thermostat
Stainless Steel Digital Pasteuriser
A 27-litre capacity stainless steel pasteuriser with a digital display includes a plastic grid to sit bottles on and dispensing tap.
Place the bottles in the tank of the pasteuriser and fill it with water to its required level.
We'd advise setting the temperature to 75 degrees and then setting the timer to around 25 minutes.
---
Advantages of Pasteurisation
Heat treatment kills off a number of microorganisms present in the cider.
Ensures that the yeast is stopped to ensure fermentation has ceased.
Keeps the flavour of your cider strong and delicious
Increases the shelf-life if sealed tightly and kept cool within a fridge.
---
Key Features
A powerful 1800W heater ensures the unit will reach operating temperature quickly and maintain it with ease.
Fully adjustable digital thermostat and timer for accuracy and ease of use.
Holds up to 13 x 750ml bottles, 2 x 5 litre bags, 1 x 10 litre bag or 14 x 1 litre preserving jars.
Can also function as a brewing kettle for making beer, mulling wine and storing and dispensing hot liquids at functions.
Only users who already bought the product can add review.