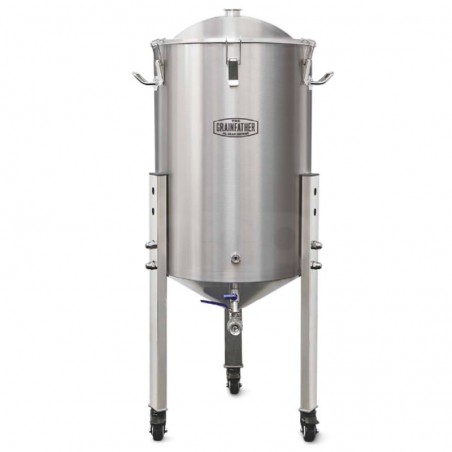  
Grainfather SF70 Conical Fermenter
The Grainfather SF70 conical fermenter has been built to hold big batches of wort with a 70L capacity. Its sleek, stainless steel finish makes cleaning simple and with an intuitive design, you can easily adjust the height, take samples, and dump yeast to avoid the build up of yeast and sediment.
---
Features
Sleek 304 grade stainless steel body
Golden angle conical avoids yeast and sediment getting stuck to the sides of the fermenter
Adjustable leg height and rolling wheels for easy manoeuvrability
Easily dump yeast with a separate valve
Insert temperature probes into the built-in thermowell for accurate temperature readings
Transfer and take samples above the yeast and trub line with an accessible valve on the side of the unit
Backed by a 2-year warrant
---
What's Included
Grainfather SF70
Lid
Rubber Bung & Airlock
Thermowell
Sample Valve
Dump Valve
Legs & Castors
---
Specifications
Dimensions: 1300mm x 410mm
Weight: 12kg
Capacity: 70L
Power: None
Connectivity: None
Click for a video on How to Assemble
Only users who already bought the product can add review.