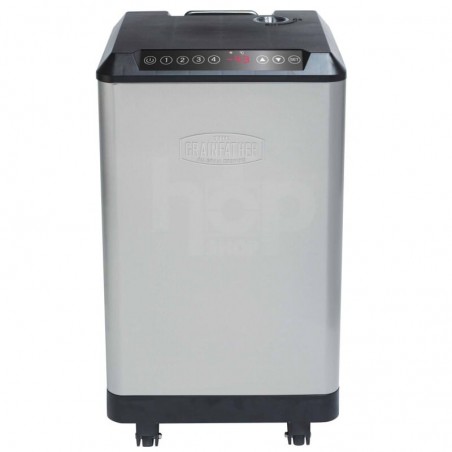  
Grainfather GC4 Glycol Chiller
Grainfather Glycol Chiller
The Grainfather GC4 Glycol Chiller has the ability to individually power and control the temperature of up to four Grainfather GF30 Conical Fermenters, each with their own fermenting schedules.
Temperature control is one of the most crucial elements for producing a good quality beer. It needs to be regulated and stable throughout the whole fermentation process to ensure the yeast doesn't get stressed and ferments correctly to get the right flavour profile.
With a sleek and compact design, that still accommodates our full array of features, the Glycol Chiller maintains the Grainfather's principle of providing quality home brewing equipment, that deliver's craft brewery like results, with a small footprint.
The Glycol Chiller connects to a hidden cooling sleeve, located in between the two stainless steel walls of the Conical Fermenter.
After dialling your desired temperature into the Conical Fermenter's digital temperature control, the liquid then travels through this sleeve, cooling the stainless steel, which in turn cools the beer in the fermenter.
The cooling sleeve never comes into contact with the beer, is completely concealed and does not need cleaning or sanitising - a true innovation for a fermenter of this scale.
Note: The instructions for the Glycol Chiller will be attached to the outside of the shipping box.
It is important that you retain these, do not throw them away and read them carefully before use to ensure no damage occurs to the unit.
If these for any reason are not included with your purchase, we highly recommend you download a new copy via the instructions tab on this page and read them carefully.
When you receive your unit, you will need to fill it up with a propylene glycol mixture.
Refer to the instructions provided with the Glycol Chiller for mixing, filling and pump priming information.
---
Features
Allows you to cold crash 23 L of wort to as low as 4-6ºC. Minimum temperature will vary based on external factors such as ambient room temperature, the number of fermenters connected and other environmental conditions.
Cools and powers up to 4 Conical Fermenters at different temperatures and fermenting schedules.
---
What's Included
GC4 Glycol Chiller
Wall outlet power cord with plug
Cooling Connection Couplers x 2
2m Insulated Hoses x 2
Glycol Funnel
Silicone tube for priming pump
3L Propylene Glycol
2 Year Warranty for GC4 Glycol Chiller
---
Specifications
LED Display
6L Glycol Tank
300W
220-240 V, 50Hz
390W x 450D x 656H (mm)
Weight: 28.3kg
Boxed Weight Approx: 30kg
Boxed Dims Approx: 50Wx50Dx74H cm
---
Here is a video of the Grainfather Conical Fermenter
Here is a video of the Grainfather Conical Temperature Controller
Here is a video of the Grainfather Conical Dual Valve Tap
Here is a video of the Glycol Chiller
---
Polite Notice
Only available for Mainland UK shipping.

Due to the volumetric size of the product we ship safely on a pallet.

Expect delivery is 1-3 days from the time of palletisation, not the order placement.

Please ensure that there is someone at the shipping address to receive your order.

For further clarification do not hesitate to contact us on 01752 660382 or sales@hopshopuk.cok
*A discount on this item if available if you are able to collect it directly from our store - please call before travelling.
Only users who already bought the product can add review.