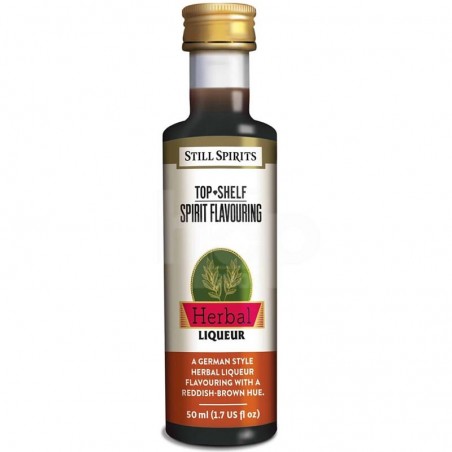  
Top Shelf Herbal Liqueur Flavouring
Top Shelf Herbal Liqueur Flavouring makes a German style herbal liqueur flavouring with a reddish-brown hue.
Shake well and add contents and 950 ml 40% ABV distilled spirit or vodka to Top Shelf Liqueur Base A (made up as per base instructions). Top up to 1.125 L with water.
Instructions
Shake the 50 ml bottle well before use.
Follow the individual instructions on the back of the bottle when mixing with neutral homemade distilled spirit and Liqueur Base pack.
Rinse out any remaining flavouring from the 50 ml bottle with some of the alcohol.
Shake the finished product bottle well and leave for 24-48 hours.
Enjoy, store for later, or give away as a great gift idea!
Range Information
Spirits Top Shelf Spirits has been developed as a range of flavourings for your homemade distilled spirit.
Only users who already bought the product can add review.