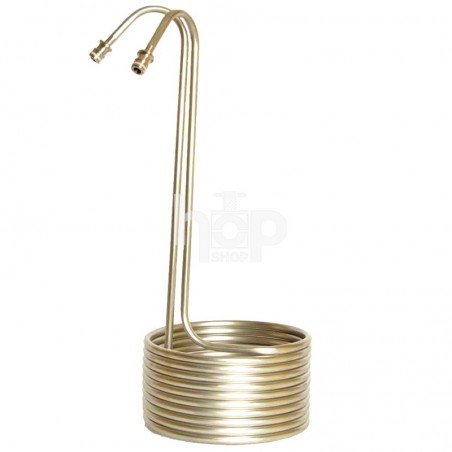  
Stainless Steel Wort Chiller - 20l
This wort chiller cools 20 litres of boiling wort to 20-25 °C in 20 minutes, using cooling water at 13 °C.
Thanks to the smaller diameter, it fits in most common brew kettles. It is highly durable and easy to maintain, due to its stainless steel design.
Cools 20L of wort to 20-25 °C in 20 minutes
Stainless steel Immersion chiller.
Easy to maintain and to use
Total height: 50 cm
Height of spiral: 12 cm
Outer diameter: 20.5 cm
Diameter of tubing: 9.5 mm
Compatible with  garden hose connectors.
3 year warranty.
You will need 3/4" hose connectors for a solid connection.
However, you can use 16mm braided tubing below with jubilee clips for a secure connection.
Only users who already bought the product can add review.