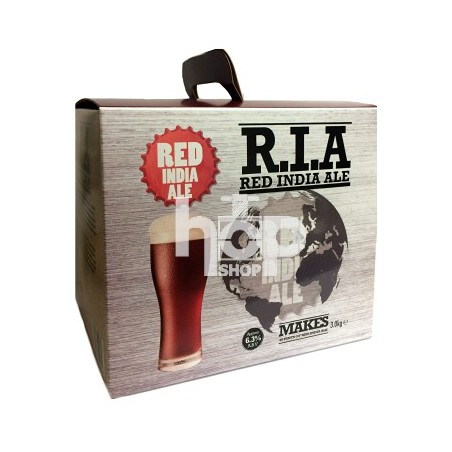  
Craft beer - American Red India Ale
The India Red Ale is a twist on the traditional IPA & pours deep red with a creamy head.
Light pine sap on the nose with a tropical fruit punch aroma.
A pleasing mix of caramel malts on the palate with, firm bitterness and juicy hop goodness.
The beer finishes smooth and dry with a lasting, cleansing bitterness.
Get your water & pitch the yeast with the ingredients, let it work though to enjoy.
Deep red with a lovely creamy fluffy head, aromas of pine Sap and tropical Fruit with a smooth caramel taste.
Makes 30 pints of approx 6.3% beer.
Range Information
Ever thought about trying to make something in the style of Sierra Nevada Pale or Goose Island IPA, or even a hoppier version of Doombar? Then consider this range.
These have been developed to bring the best of American craft philosophy to the UK.
The approach is simple, based on the same philosophy as the American craft brewing industry where only the best and freshest ingredients are used, never sacrificing quality over cost.
Generous malt/sugar levels requiring no additional sugars combine with hop pellets & dedicated yeast to provide refreshing beverages that many other beers struggle to match.
Please see below for compatible items associated with this product.
---
Only users who already bought the product can add review.