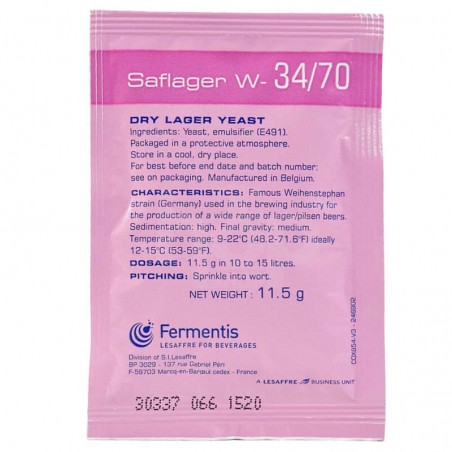  
SafLager W-34/70 German Lager Dry Yeast 11.5g
Brewer's Yeast for Clean Malty Lagers
This famous yeast strain from Weihenstephan in Germany is used worldwide within the brewing industry.
W-34/70 allows to brew beers with a good balance of floral and fruity aromas and gives clean flavours and high drinkable beers.
---
Attenuation: 80-84%
Sedimentation: Fast
Flocculation: High
Alcohol Tolerance approx.: 9-11%
Recommended Fermentation Temperature: 12-15°C
---
Suitable for Marzenm, Munich Helles, Vienna Lager, Rauchbier, Baltic Porter, Doppelbock, Maibock & International Lagers.
Only users who already bought the product can add review.