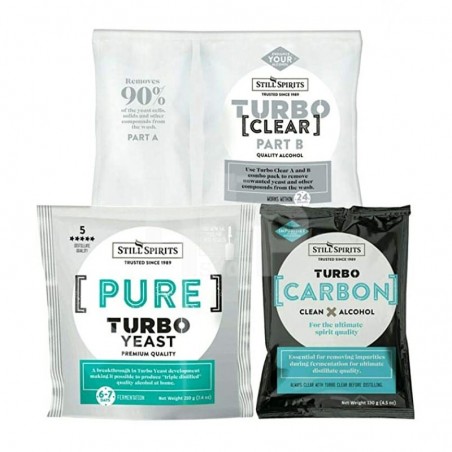  
Still Spirits Pure Turbo Triple Pack
Pure Turbo Yeast Bundle
This is the updated version of the Still Spirits Triple Distilled yeast, now named Pure.
This yeast is the cleanest Turbo yeast available, and is suitable for fermenting up to 25L of wash at 25 degrees to produce approximately 15% ABV in seven days.
We recommend leaving the yeast to ferment until the desired gravity is reached as it can vary depending on temperatures, sugars etc.
Requires 6kg of sugar, or 8kg of dextrose for approximately 14% ABV in 48 hours.
Requires 7kg of sugar or 8-9kg of dextrose for approximately 15% ABV in five days.
Contains dried yeast, nutrients, enzymes, vitamins & trace minerals.
Available as an 110g sachet of turbo yeast, liquid carbon & clearing agent.
Instructions
To use this yeast add 21 litres of water at 35 degrees to your fermenter.
Add your sugar and mix until fully dissolved.
Finally add contents of this packet and leave to ferment between 18-25 degrees.
This should give you approximately 15% ABV in just seven days, as stated above we recommend working with gravity readings.
After fermentation is complete, proceed and follow the relevant instructions for the carbon and finings.
Only users who already bought the product can add review.