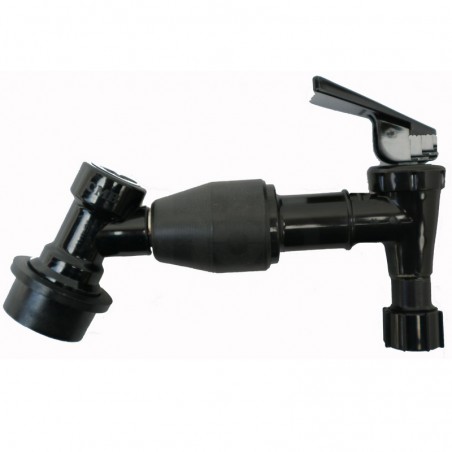  
Sparkler Tap with Disconnect
Pour the Perfect Pint with the Premier Sparkler Tap with Disconnect
Introducing the Sparkler Tap with Disconnect — the quintessential tap for homebrewing connoisseurs. For years, it's been the go-to replacement for king keg pressure barrels, renowned for its exceptional performance and reliability. Today, it continues its legacy of excellence, now outfitted with a disconnect that enables use with your Cornelius style kegs and also with an array of pressure fermenters — including popular models like the Apollo, Chubby, FermZilla, and Fermenter King Junior. This tap is a universal solution for brewers who demand flexibility without sacrificing quality.
---
Features and Benefits:
Adjustable Flow Control: Dial in the perfect resistance with a simple twist to serve up your signature brew with the exact level of carbonation you desire.
Sparkler Nozzle Perfection: The Sparkler Tap features an adjustable nozzle, ensuring you achieve that picture-perfect foam every time.
Effortless Operation: Whether you're pouring for guests or enjoying a personal brew, the vertical lever flip-top action allows you to dispense with ease. Push down for a quick fill or lock it open for a steady stream, the power is at your fingertips.
---
Join the Revolution in Homebrew Excellence
The Sparkler Tap with Disconnect is the choice for brewers who refuse to compromise on quality and precision. Don't let subpar equipment hold you back. Embrace the full potential of your homebrew with a tap that's as serious about beer as you are.
Only users who already bought the product can add review.