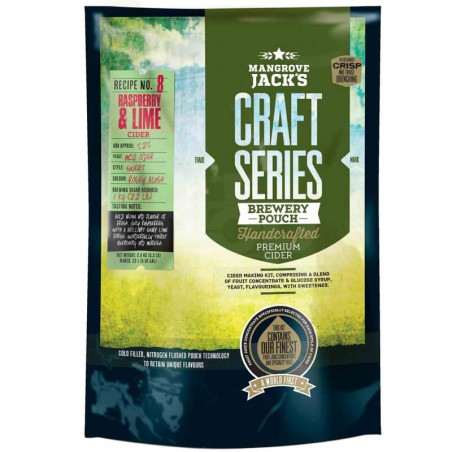  
Mangrove Jack's Craft Series Raspberry and Lime Cider Kit
Mangrove Jacks Raspberry and Lime Cider Brewing Kit
This Mangrove Jack Cider kit produces up to 40 pints and requires the addition of 1 kg brewing sugar.
If you want to enhance the taste of your homebrew cider.
Then we recommend swapping out the sugar for 1 kg of Mangrove Jacks Cider Enhancer.
---
This cider brewing kit has a bright aroma and intense flavour of fresh, juicy raspberries topped off with a brilliant lime finish.
ABV Approx: 5.2% | Style: Sweet | Colour: Deep Reddish Purple
---
Mangrove Jack Cider Kits preserve the natural flavour of the fruit, giving you cider which is fresh and crisp.
Mangrove Jack Cider Ingredients include a blend of fruit concentrate, glucose syrups, yeast, flavourings and sweetener.
This cider brewing kit includes a sweetener sachet, which is optional to use if you prefer a drier cider. 
Only users who already bought the product can add review.