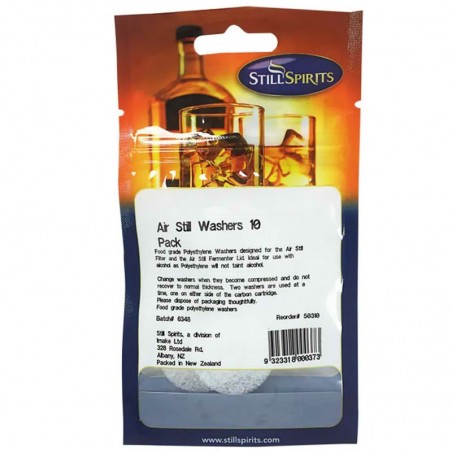  
Still Spirits - Air Still Washers (10 Pack)
Still Spirits Air Still Washers - Premium Quality Alcohol Filtration
Still Spirits Air Still Washers are essential components for your alcohol filtration needs.
These food-grade polyethylene washers are designed to fit snugly on the Air Still Filter and the Air Still Fermenter Lid, ensuring a tight seal and preventing any unwanted leaks.
Key Features:
Food-Grade Material: These washers are made from food-grade polyethylene, which is safe to use with alcohol. You can trust that your spirits won't be tainted by these washers.
Seal Carbon Cartridges: Still Spirits Air Still Washers play a crucial role in sealing the carbon cartridge into the bottle filling funnel. This ensures that your filtration process is efficient and effective.
Reusable: Each pack contains 10 washers, and they are reusable up to 2 or 3 times before showing signs of wear. This makes them not only practical but also cost-effective.
Only users who already bought the product can add review.