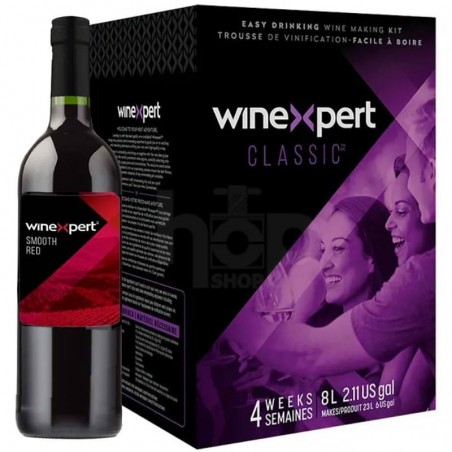  
Winexpert Classic - Smooth Red - 30 Bottle Wine Kit
Winexpert Classic Smooth Red Wine Kit
Winexpert Classic Wine Kit - Smooth Red
Produce up to 30 bottles of delightful, fruit-forward homemade wine with the Winexpert Classic Smooth White Wine Kit.
This red wine is rich with the flavours of juicy dark berries, offering a perfect balance of off-dry sweetness and medium oak notes.
This wine kit does not require any additional sugar and are for both novice and experienced winemakers.
---
Wine Specifications
ABV: 12.5%
Body: Medium
Oak: Medium
Sweetness: Off-Dry
---
What's Included?
8L of Grape Juice Concentrate
All Required Additives
Yeast
Step-by-step Instructions
---
Winexpert Classic Wine Kits 
Winexpert is the world's leading supplier of premium wine kits, and they select their juice from some of the best regions in the world.
The Winexpert Classic Wine Kits are a series of wine kits that produce wine perfect to have on hand for life's big events and everyday moments.
Like all wine kits, with time to mature you will experience an increase in quality, improving with age up to 12 months.
Only users who already bought the product can add review.