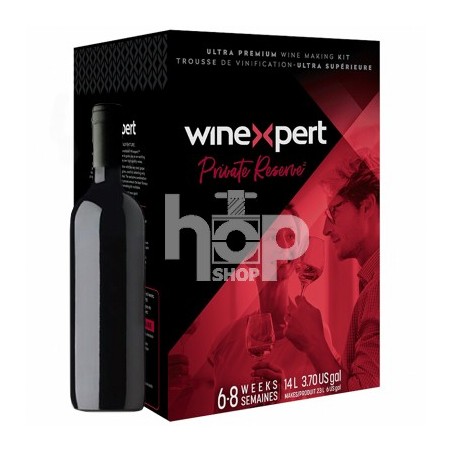  
WinExpert Private Reserve - Infusion (Lodi, California)
Winexpert Private Reserve - Cabernet, Zinfandel, Syrah (Lodi, California)
For those who relish the art of at-home winemaking and have enjoyed the Winexpert Limited Edition kits, the Winexpert Private Reserve - Infusion is the next thrilling venture. This limited-release winemaking kit presents a unique Californian blend, combining the sophistication of Cabernet, the vibrancy of Zinfandel, and the spiciness of Syrah. Derived from the flourishing vineyards of Lodi, California, this blend forms a smooth, fruit-forward red wine that's bound to captivate your senses.
---
A Unique Pre-Oaking Process
One of the defining characteristics of the Infusion kit is its pre-oaking process, a technique unique to Winexpert. The juice is steeped with whisky oak chips from the reputable Wayne Gretzky Estates Winery and Distillery for several months. This meticulous process not only enhances the juice's flavour but also instils a distinct roundness to the body and intensifies the tannin levels.
---
A Symphony of Flavours
The union of Cabernet, Zinfandel, and Syrah in this blend brings together a symphony of flavours. Cabernet imparts its signature blackcurrant notes, Zinfandel contributes with its jammy berries, while Syrah adds a dash of plum and pepper. The resulting wine is a bold, full-bodied blend abundant in tannins and berry flavours.
---
Whisky Oak Infusion: Adding an Extra Edge
The 6-month steep in whisky oak not only refines the tannin but also infuses the juice with sweet spice, brown sugar, and vanilla notes. This infusion adds a sweet complexity that rounds out the bold wine, rich with flavours of blackcurrant, jammy wildberry, and plum, underlaid with mocha, spice, and smoky toasted notes. The inclusion of oak chips and cubes in the kit further enhances the flavour profile, although no whisky oak is included.
---
WinExpert Private Reserve Infusion Profile
Sweetness: Dry
Oak: Heavy
Body: Full 
ABV: 14% Approx.
Region: Lodi, California
Makes: Up to 30 Bottles
Ready: 6 - 8 Weeks
---
Winexpert Private Reserve Wine Kit
The Winexpert Private Reserve Infusion kit enables you to produce 30 bottles of captivating red wine. It's the perfect choice for homebrewers and winemakers, especially those who have enjoyed the Winexpert Limited Edition kits, seeking to bring their winemaking craft to the next level. Don't miss out on this one-of-a-kind, limited release from Winexpert Private Reserve. Immerse yourself in a winemaking experience like no other with the Winexpert Private Reserve Infusion.
---
Pre-Order Customers ONLY
This price is for pre-order customers only, if you did not pre-order a kit with ourselves then the cost is £120.
Only users who already bought the product can add review.