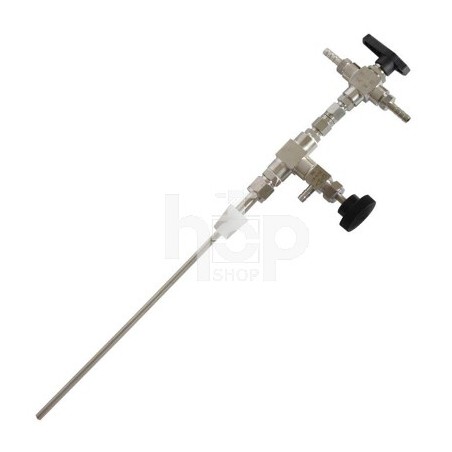  
Stainless Steel Counter Pressure Filler
This manual counter pressure filler allows you to fill bottles from a carbonated keg with minimal foaming and CO2 loss.
With this method of bottling it prevents sediment in the bottle from which you typical get from bottle conditioning.
Specification
Full Stainless construction with a silicone bung to seal to the bottle neck.
The filler has 7mm barbs on the inlets and release valve which suit beer lines with internal diameter of 5 or 6 mm.
The bung will suit bottles with an internal neck diameter between 14 - 20 mm.
Bottles need to be at least 22 cm high.
Connect your CO2 line from the regulator on one side and the beer line from the keg to the other side.
Three way valve at the top of the counter pressure filler: CO2 In / Beer In / Closed.
Cleaning
After use we recommend to run a peroxide based cleaning product through the filler such as Chemipro Oxi and rinse out with water.
Before the next use rinse again with a phosphoric acid based sanitizer such as Star San.
Lines, clamps, gas splitter and disconnects/coupler to suit the kegs are not included.
Only users who already bought the product can add review.