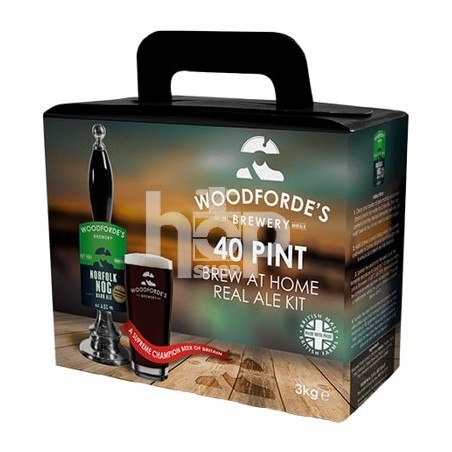  
Woodforde's Norfolk Nog Dark Ale
Cheapest all malt brewing kit we run.
A worthy former champion beer of Britain.
Norfolk Nog is a dark, full bodied, red brown beer with plenty of flavour and aroma.
Velvety texture with hints of chocolate, treacle and liquorice.
Roasted malt complements the sweeter components of the palate.
A superb and warming beer with bags of character and flavour. It makes 40 pints at an ABV of 4.5%.
Woodforde's cask conditioned Norfolk Nog won the highest possible acclaim when it was awarded CAMRA's Champion Beer of Britain in 1992/93.
Range Information
From some of the award winning best recipes.
A fine range of ales made to recipes from an award winning Norfolk brewery which stand out for their superb hop aromas.
No brewing sugar needed other then for priming for the secondary fermentation.
Outstanding kits.
Only users who already bought the product can add review.