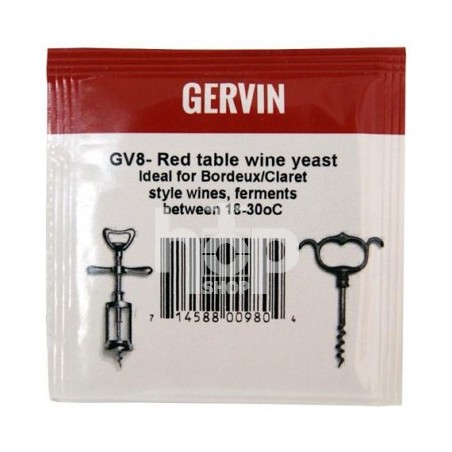  
Gervin GV8 - Red Table Wine Yeast (Bordeaux, Red Grapes)
Gervin Red Table Wine Yeast GV8
The choice of yeast for the production of dry red table wines (Bordeaux/Claret) and red grapes.
This French yeast was selected by INRA at Narbonne to complement the characteristics of the grapes.
Often described as an "aromatic" yeast for its pleasant and lasting aroma.
It produces minimal frothing and produces a good yield of glycerol.
---
This 5gm sachet is sufficient for up to 23 Litres - simply sprinkle the contents of the sachet onto the surface of your brew.
ABV Tolerance: 15%
Temperature: 18 - 30°C
Strain: S. Cerevisiae Narbonne
---
Making a Yeast Starter
Add 1/2 teaspoon of sugar and the contents of the sachet to a glass with about 50ml of warm water. (approx. 20 °C)
Cover the glass with a clean plate and simply leave for 15-20 minutes.

Before

 you empty the glass of yeast into your brew we recommend vigorously stirring your wine.
The more oxygen introduced 

before

 you put the yeast on will promote a strong healthy fermentation.
Only users who already bought the product can add review.