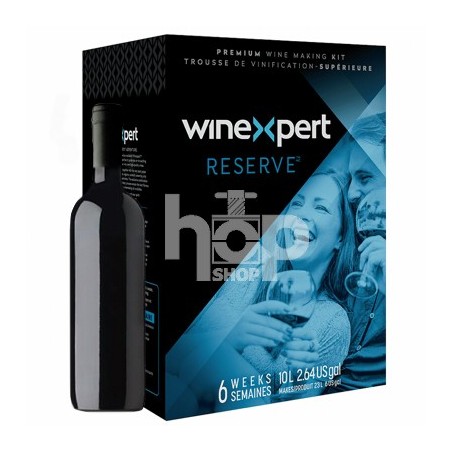  
Winexpert Reserve Italian Montepulciano 30 Bottle Wine Kit
Winexpert Reserve wine kits deliver premium homemade wine with extraordinary body.
No added sugar is needed for this winemaking kit, as all the sugar content is contained within the 10 litres of grape concentrate.
Like all wine kits, with time to mature you will experience an increase in quality, improving with age up to 12 months.
---
Montepulciano is a vigorous red grape variety widely planted over much of east-central Italy.
Capable of creating deeply coloured, rich red wines with notes of cherry, blackberry, boysenberry, dark plum, spice and a refreshing acidity.
Montepulciano generally produces wines that are smooth and mellow yet robust and mouth filling, with dependably high alcohol content.
Dry | Medium Oak | Medium-Full Body | 13% Approx.
---
Range Information
Winexpert, delivers the satisfaction of crafting premium-style wines with exceptional body, flavour, and aroma.
Delicious wine is yours for the making, no additional sugar is needed, with quality as good and even better than store brought.
Each of these kits contains 10 Litres of varietal grape juice & concentrates, and makes 28-30 bottles of calibre wine.
Ready in 4-6 weeks, this kit includes the Juice Concentrate, Yeast, Stabilizers, Clarifying Agents and a Full set of instructions.
Please note this is just an ingredients box, and you will need wine making equipment.
Only users who already bought the product can add review.